Rapid RSS Feed Creation Software - Create, Edit, and Publish RSS feeds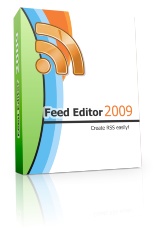 The RSS technology turned the way people look for news totally upside down. We used to scroll dozens of websites for updates, and now those updates come to our RSS aggregators without any efforts from our side. Providers of feeds have experienced this too – RSS feeds are great way to make customers now about fresh releases, special offers, news, updates and so on. That is why having a tool for full scale coverage of RSS feed tasks is a must now, especially if you are seriously into building interaction on your website and updating your users.
Feed Editor is a complete toolbox for quick creating, editing and managing RSS feeds for a website of virtually any complexity.
Perfect for Beginners
While RSS feeds are based on the XML technology, you don't have to be a tech pro to utilize the power of this syndication in full. Indeed, the simple WYSIWYG editor allows you to make a feed in a customary way, while the built-in FTP uploader guarantees transparent publishing of feeds on your website. The step by step RSS feed creation Wizard guides you through the entire process of feed creation and ensures you never miss any vital detail.
Perfect for Pros
Being quite simple to master, our RSS editor is extremely functional at the same time. A fluent support for Apple iTunes is perfect for publishing podcasts. Advanced HTML editor and image editor make for creating quality posts for a blog, while exporting to CSV, HTML or JavaScript contribute to versatility of the program. Any feed must comply with the latest RSS 2.0 specifications, that's why Feed Editor provides for automatic RSS validation.
Versatile All-in-one Solution
Whenever you want to deal with RSS feeds you definitely want an all-in-one solution, instead of a number of scattered tools barely cooperating with each other. Despite the name, Feed Editor is much more than a simple tool to edit feeds. It is a full functional utility to take care of any task you may face with while working with RSS feeds, starting from editing to final publishing of the feed on a website.
Award-winning RSS Creator
Feed Editor is honored with many awards by various authoritative resources, including PC Magazine and CHIP. And testimonials of our users proudly confirm that each award is very well deserved. Simple and intuitive interface meets comprehensive functionality to bring one of the most downloadable RSS feed editing tools in the industry! Try Feed Editor now for free and make sure of that.
Main Features
Really powerful and easy-to-use software to make RSS feeds and podcasts
Full support of RSS 2.0 and Apple iTunes
Built-in FTP uploader
Built-in RSS feed validator
Built-in WYSIWYG HTML editor and Image Editor
Built-in new feed creation Wizard
Ability to preview feed

Testimonials
"I am extremely pleased with my purchase of RSS Feed Editor. After trying at least 6 other RSS editors, I found Feed Editor to do what I wanted and more than the others. Your RSS maker is easy even for beginners and the tech support is the best I've seen in a long time. The author is quick to respond to questions and they have added new functions from user suggestions. I have not found the limits to this product yet, and we run a large RSS list of monthly county events (actually 2 months of events, which is over 1,000 lines of verbiage). Editing and image insertion are painless. Well worth the download and well worth the fee."
Genie Bohn, Webmaster
"Your RSS Editor is a full-featured program for creating and editing news feeds. It has an intuitive interface and is easy-to-use. This is one of the best programs for doing RSS feeds that I've seen! Check it out for yourself."
Michael E. Callahan aka Dr. File Finder
"Unlike other RSS creation tools, Feed Editor makes it simple and fast to add content on the fly. With great usability built into its interface, Feed Editor is built for speed and ease of use. Make sure you have this app on your desktop."
Zaine Ridling
"Feed Editor is a great piece of software by the way. Feed Editor makes creating and editing RSS feeds easy!"
Michael Carter
"Thanks for the great app; it couldn't be easier. Works best. I really love Feed Editor!"
Richard Ye
"Your software works well, is bug free from what I can see and very dependable... great quality!"
Mark Hamilton
Additional Resources
Software to promote your RSS feed
Article: How to create RSS feeds
(Compatible with Windows 2000/XP/Vista/7/8)