Effortless RSS Feed Submission Tool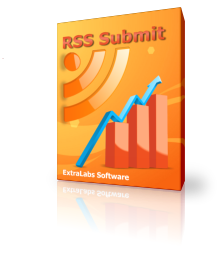 In last four years RSS has become the major way to notify readers about recent updates. It has almost replaced traditional e-mail newsletters and other subscription-based methods due to its effectiveness and ease to use. RSS feeds, however, still need subscribers, so submitting an RSS feed to various RSS directories and search engines should be the vital part of any promotion campaign.


Automatic RSS Submitter
RSS Submit does the entire job for you. This product is truly a new step in automating RSS submissions. Not only it submits an RSS feed to dozens of directories and search engines, it also checks your RSS for errors prior to submission and automatically fills any missing fields. Plus, thanks to its unique "feed discovery" feature RSS Submit locates the feed on its own, so actually the only thing you should do is to specify the URL of your website and click the Start button.
Faster, Smarter RSS Submission
Thanks to its multi-threading nature, RSS Submit does its job smoothly and quickly, fully utilizing your bandwidth while not overloading your system. Being an extra-quality automatic RSS submission tool it doesn't behave as a "mindless" bot. Featuring multiple user profiles and the manual submission mode for tough sites, RSS Submit is one of the smartest and extremely user-friendly tools on the market.
Freshly Squeezed RSS Directories
RSS Submit includes a built-in database with handful of various RSS directories and search engines it can submit RSS feed to. And the database is always up to date due to the automatic update system that keeps submissions accurate and errorless all the time. Such approach guarantees excellent spreading of your feed over the web and thus greater visibility, many new subscribers and, as a final destination, a stable profit from the returning customers.
Summarizing everything, RSS Submit features:
automatic and manual submission to 140+ RSS directories

auto form-filling for effortless submission

multiple user profiles permit business or corporate usage

fully automatic updates keep the directory database fresh and up to date

And finally 100% free lifetime upgrades make the tool one of the most cost-effective solutions in the industry! Evaluate our product for free right now.

Full Version Enhancements (special offer: 30% discount):
Unlimited time usage of software
Unlimited number of RSS feeds may be submitted
Activates all available RSS search engines for submission
Lifetime of FREE upgrades including new RSS directories
Submission of RSS feeds used for commercial purposes
Submission of feeds belonging to other businesses and clients