RSS Wizard: HTML to RSS Converter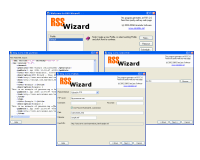 RSS Wizard is a handy application for converting HTML to RSS. It lets you directly create an RSS 2.0 feed from any website or webpage (you don't even need to prepare the source in any way). By using our application, you can easily generate, edit, and publish as many RSS feeds as you want.
RSS Wizard is a truly feature-rich application. It has a number of built-in tools, including scheduler, web crawler, FTP client, XML editor, and preview browser. For advanced users, it has a command line interface. To make things easier for you, it automatically detects RSS tags.
Our application can satisfy the needs both of novice and experienced users. Its built-in scheduler, added in the latest versions, enables a fully automatic mode: Now ready-to-use RSS feeds can be created almost without any intervention on your part!

Main features:

Screenshots
| | | | |
| --- | --- | --- | --- |
| | | | |

Testimonials
"RSS Wizard is an amazing product! It really works. I really LOVE this software (which I have gladly purchased)."
Kieth Walden
"Keep up the good work, some of us appreciate it, you should know how much!."
Olga Markina, Webmaster

Additional Resources